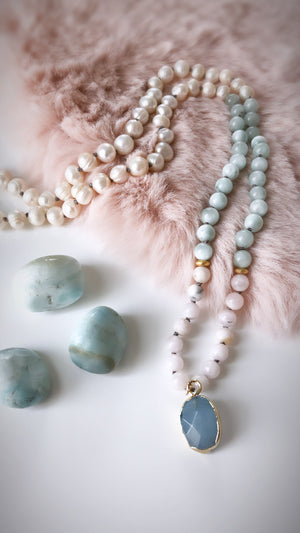 Lumerian Goddess
Sale price Price $65.00 Regular price
Part of the New Oracle Collection: 
'Lumerian Goddess' channels the Divine Feminine Energies of the Goddess, Priestess, Healers & Guides, and have been Programmed/Blessed in Ceremony on your behalf.   
      These Transformational beads assist in manifesting the radical yet supported journey within. Holding you, inspiring you, and reminding you that you are the way. Through you and your devoted practices, all is possible. While we may not immediately understand the unfolding and delivery of our miracles, we can trust that all will become more clearer with presence. Keep asking for help, keep opening to receive, and keep showing up. Expanding our ability to hold these divine energies in our own energetic fields/bodies at greater and greater capacities = Ascending into higher dimensional frequencies and realities.
While these sacred pieces are powerful, they can also be worn because you are simply drawn to their beauty, trust that something inside of you is aligning with them now, & that if all you are ready for is to wear one of these special pieces without any particular practice, that, that is enough.         
Necklace Components:
18K Gold Plated Rimmed Aquamarine Pendant  -3/4" 
Pink Calcite Beads  -6mm
AA Grade Green Angelite Beads  -6mm
Glass Pearl Beads  -7mm
18K Gold Spacers
Approximate Length:  24"
One size fits most
Necklace has been softly tied in the back so that buyer can decide to knot permanently by glueing, etc. Or to keep softly knotted for easier removal, necklace will fit over most heads tied as is without the need to undo. This is the buyers choice. I wanted to keep it easy and flexible for everyone.  
Ships for Free anywhere in the United States, if you need international shipping, please email me at: stacynai@anapoenergy.com 
With free shipping, items usually ship out within 5 days from purchase, if you need a quicker shipping time, please email me about purchasing a priority option.